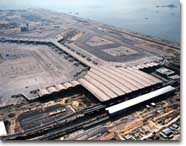 INTRODUCTION
Air transport has played an important role in Hong Kong's commercial success. Therefore the overall aim of the Airport Authority has been to develop an airport that will serve the 21st century's needs of the SAR. The terminal building grew out of the master plan -- the facility could have been realised as a collection of individual buildings that were joined conveniently under the same roof
The 1.2 km airport terminal building at Chek Lap Kok is the world's single largest building. With a total floor plan area of about 515,000 sq m, the contract price paid to create such a building was $10.1 billion, excluding other facilities for E & M works etc. The contract includes 89 lifts, 2.5 km of moving walkway (people movers, 38 fixed link bridges and 248 check-in desks. The terminal's full length measured at its centre is over 1.8 km. A third of the building is constructed below ground.
The 1.2 km roof of the terminal building is the most spectacular of all terminal structures. The innovative wave form roof is symbolic of flight. The roofing works presented a new set of challenges; not only the sheer size of the roof, but also the combination of new technologies involved. The terminal building has a sophisticated and dimensionally precise steel roof, comprising 129 modules, each with an average weight of 120 tonnes.
The modules were assembled in an onsite fabricating yard from over 100,000 individual components imported from the UK, China and Singapore and shipped to Chek Lap Kok Island in containers. The modules were assembled and transported from the yard on special transporters, and lifted or slid across the roof of the terminal building by large cranes and sophisticated track systems.
The design of the building is highly functional. There are no suspended ceilings, so there is no wastage in internal space. Neither is there redundancy in the use of materials; each member is strong enough to support its function. It is an honest expression of the structure that makes the building. Structure in this sense is the architecture of the space, which together with the light and the movement form the quality of the building.
The completed terminal is one of the world's more impressive buildings. Not only does it look good, but it is also passenger-friendly. The airport is continually evolving. There is so much reserved land on Chek Lap Kok Island that opportunity for future development is plentiful.
main contractor
BCJ Joint Venture
comprising
China State Construction Engineering Corporation/Kumagai Gumi (HK) Ltd/
Maeda Corporation/AMEC International Construction Ltd/Balfour Beatty Ltd