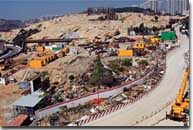 INTRODUCTION-
The MTRC Tseung Kwan O Extension
The Tseung Kwan O Extension project will become the Mass Transit Railway Corporation sixth rail line when it starts operations in 2002. Prioritised under the government Railway Development Strategy in 1994, the 12.5-km extension will serve the rapidly developing Tseung Kwan O and Yau Tong areas.
The new project includes three main features: a diversion of the existing Kwun Tong Line from Lam Tin Station, passing through Yau Tong and terminating at Tiu Keng Leng Station; the new Tseung Kwan O Line connecting with the Eastern Harbour Crossing and passing through Yau Tong towards Tseung Kwan O New Town; and a fork in the line from Tseung Kwan O leading to termini at Po Lam and Tseung Kwan O South. The initial phase will include five stations Yau Tong, Tiu Keng Leng, Tseung Kwan O, Hang Hau and Po Lam as well as a depot.
Further afield, improvement works at North Point and Quarry Bay Stations on Hong Kong Island will better equip the Eastern Harbour Crossing for increased passenger flow.
The Tseung Kwan O Extension project comprises 33 major contracts at a total value of $21 billion. Of these, 13 contracts are for civil works and the remainder are for electrical and mechanical works.