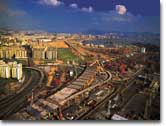 INTRODUCTION
Route 3 (Kwai Chung Section) is one of the ten Airport Core Projects. This section runs from the south and joins the West Kowloon Expressway at Mei Foo. From there, it extends along Kwai Chung Road and rises to become an elevated expressway in the form of a viaduct. When approaching the Lai King MTR station, it turns to the west to Kwai Tai Road, and then joins the Rambler Channel Bridge, running alongside Terminal 1. After reaching the approach bridge on the east coast of Tsing Yi Island, Route 3 runs directly into the Cheung Ching Tunnel. Then it goes through a section of associated expressway to reach the Tsing Ma Bridge. This section will ultimately connect with the Ting Kau Bridge in the Route 3 (Country Park Section).
The total construction cost of the 6.8 km Route 3 (Kwai Chung Section) is $3.9 billion. The project comprises three basic elements: Kwai Chung Viaduct; Rambler Channel Bridge; and Cheung Ching Tunnel. The following photographs illustrate and explain the construction process of the viaduct.
The construction method is not as complicated as one might expect. At the start, the pier or portal frame is constructed to support the bridge deck. Precast concrete beam members of various cross-sections are erected by specially designed launching equipment to span the portals. Reinforced concrete is then placed on the top of the precast beams so that the bridge deck can be formed. However, in order to cope with the design requirements and actual on-site conditions of each section, three different methods and segment launchers must be used during construction.
The 2.2 km section of the viaduct that runs from Kwai Chung Road to Kwai Tai Road makes use of 34 m U-section beams to form the deck. The beam members are erected by a segment launcher with 160-tonne capacity that "walks" on top of supports above the portal frame.
In constructing the lighter Airport Railway Viaduct, box-section beam and girder-type segment launchers are used. As for the 600 m section of expressway running along Terminal 1, as well as the Rambler Channel Bridge, large box-section beam and pedestral-type segment launchers with 250 tonne capacity are used.The following photographs go into greater detail.