October 31, 2016

How are Coworking centers shaping the workplace of the future?

HOK and CoreNet Global recently released a report on Coworking: A Corporate Real Estate Perspective. The report highlights the societal, economic, demographic and technological factors leading to the growth of coworking. As one of the fastest-growing sectors of the commercial real estate market, the findings indicate the shift is due to the rise of the contingent workforce, development of the sharing economy and a need to attract talented people while reducing real estate costs and improving speed to innovation.
A few findings that may be of interest:

•

Competition amongst coworking centers is heating up. Accelerators, incubators, maker spaces, campuses, retailers, libraries and hotels have begun to introduce their own coworking concepts by repurposing existing space within their facilities.

•

The average coworker is no longer a freelancer. The majority of coworking center users are now employees of an organization, versus freelance workers or self-employed entrepreneurs, a trend that signifies changes to the traditional workplace model.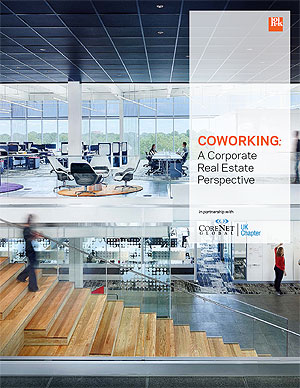 Download report <click here>