A ribbon-cutting ceremony was held on 31 March 2017 for the newly renovated Nassau Veterans Memorial Coliseum presented by New York Community Bank in Uniondale, New York. Thornton Tomasetti provided structural engineering and façade consulting services for the 416,000-square-foot multipurpose arena.
The US$165-million project gave the 1970s-era structure a modern exterior featuring 4,700 brushed aluminum fins, as well as a new grand main entrance, an extended outer concourse, a 4,100-square-foot VIP Club, a 1,500-square-foot beer garden and improved seating. SHoP Architects designed the new façade, while Gensler served as architect for the interior renovations. Forest City Ratner is the developer, with facility manager Brooklyn Sports & Entertainment overseeing the redevelopment. Hunt Construction Group was the construction manager.
The scope of work by Thornton Tomasetti included a condition assessment of the original structure, structural design of a widened entrance, demolition of upper suites, load reviews and strengthening of long-span trusses.
The coliseum will serve as the centerpiece of a 77-acre entertainment and retail hub known as NYCB Live. It can accommodate up to 13,000 fans for hockey games, 13,500 for basketball events and up to 14,500 for concerts.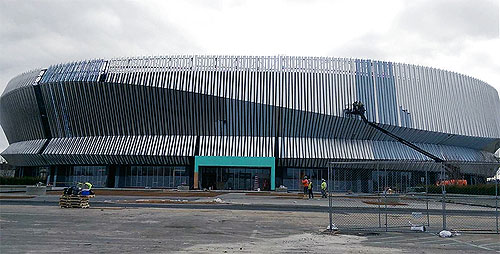 The arena's exterior is designed by SHoP Architects which features 4,700
aluminum fins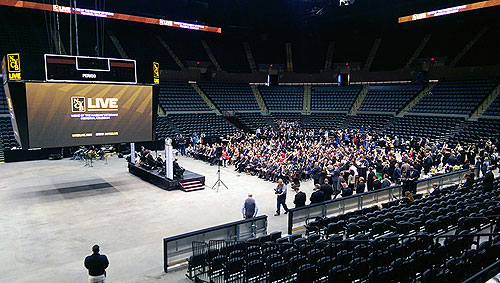 Opening of the new Nassau Veterans Memorial Coliseum in March 2017
(Photos by Reza Farimani)