March 5, 2019

Dow to showcase innovative façade applications at Window Door Façade Expo China 2019

Dow Performance Silicones, a global business unit of The Dow Chemical Company (Dow), is featuring its cutting-edge sustainable solutions for façades, windows and doors based on the heritage Dow Corning silicone technology platform at the Window Door Façade Expo China 2019, a leading sourcing platform for window, door and façade products in China, from 4 to 6 March in Guangzhou.
"We are excited to showcase Dow's innovative cross-portfolio applications and solutions for façades, windows and doors at this year's Window Door Façade Expo, which always provides a great forum for engaging industry stakeholders on how Dow products can best enable their building and construction success," said Frank Zhu, Greater China Commercial Manager, High Performance Building Solutions, Dow Consumer Solutions Business Unit who will be in attendance at the expo. "What's more, we look forward to the opportunity the event affords us to convey our vision for, and commitment to, a low-carbon future through Dow's products, expertise in applied science and engineering in addition to our overall sustainability goals. With its proven durability, we are confident that our silicone products can offer consumers with endless posSibilities."
As the global leader, originator and innovator in silicones, at the event Dow will display a range of advanced and sustainable technologies designed to meet evolving building and construction needs, including:
| | |
| --- | --- |
| • | DOWSIL TSSA Transparent Structural Silicone Adhesive: An optically clear and high strength silicon film for point-fixed façade applications. TSSA features almost invisible bonding and provides a sleek aesthetic finish. TSSA is high UV, temperature-resistant and can be used with and without mechanical dead load support, on curved glass and on laminated glass with functional or decorative interlayers. |
| • | DOWSIL 787 Modified Silicone Sealant – a one-component, low modulus, neutral curing, high performance construction sealant for sealing and assembly applications in general construction and pre-casting concrete construction to provide long-term waterproof seal effect. |
Dow provides solutions across the key areas for certifying a LEED building to help reduce energy consumption, and low-VOC coating solutions to improve indoor air quality. As part of the Dow 2025 Sustainability Goals, in addition to applying its science and engineering expertise, Dow will continue to actively strengthen partnerships that will help create sustainable solutions for a cleaner and greener society and planet.
The products showcased at the Window Door Façade Expo China 2019 carry the new DOWSIL brand name, which was launched in China in February 2018.Products of the heritage Dow Corning silicone technology platform have been globally renamed DOWSIL, with enduring commitment as well as unchanged formulations and continuing warranty coverage to ensure a smooth transition for construction customers in China.
More information about Dow's full range of high-performance building solutions is available at consumer.dow.com, a new website offering an all-in-one, industry-leading B2B e-commerce experience including real-time inventory status, order tracking and product search.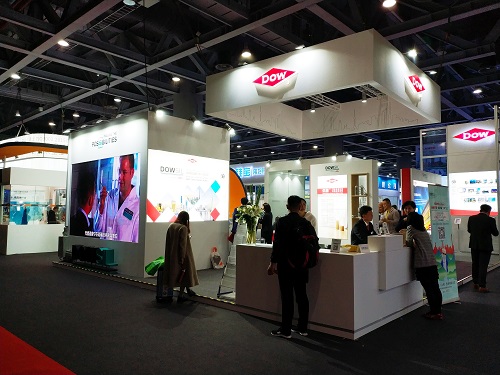 Online and Offline year round advertising package from
HK$2,300 per month <click here> for details