April 29, 2019

CIC BIM Space officially launched

The Construction Industry Council (CIC) announced the opening of the CIC BIM Space on April 23.
Speaking in the ceremony, Mr Chan Ka-kui, Chairman of CIC said, "The CIC set up the BIM Innovation and Development Centre to provide various training courses and technologies promotions since 2016. This year, we set up "CIC BIM Space" to provide more BIM related resources to the industry. Besides, CIC has signed the Memorandum of Understanding (MOU) with six higher education institutions in Hong Kong in the past two years. Today, CIC signed the MOU with The Hong Kong Design Institute (HKDI), Hong Kong Institute of Vocational Education (IVE) and Technological and Higher Education Institute of Hong Kong (THEi) to step up its efforts in fostering the higher education institutions to incorporate knowledge of BIM technologies into the Foundation Programme Curriculum. This will enable the new generation to obtain the latest technologies and first-hand information on BIM."
To facilitate the healthy development of BIM in Hong Kong, CIC has introduced the BIM Certification and Accreditation Schemes to ascertain the competency of BIM practitioners and the quality of local BIM training programmes. The Certification Scheme for BIM personnel initially deals with applications who wish to be certified by CIC as BIM Managers. It is targeted at BIM practitioners who already have relevant practical experience in BIM projects, meet the relevant academic and/or professional qualification requirements, and have completed a CIC-accredited BIM Manager Course. The first batch of 29 BIM Manager who recognised by CIC will also receive the certificate in the ceremony.
For more information about BIM, visit www.bim.cic.hk.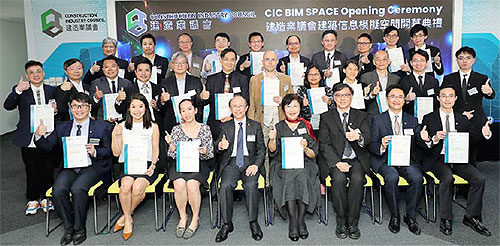 Online and Offline year round advertising package from
HK$2,300 per month <click here> for details