November 13, 2019

Green Building Award 2019 Award Presentation

Winners of the Green Building Award 2019 (GBA 2019) were announced at an award presentation ceremony hosted at JW Marriott Hotel Hong Kong on 5 November 2019. Over 400 distinguished guests, including developers, construction companies, consultants, property management companies, representatives from professional institutions, as well as the representatives of government attended the event. The Guest of Honour, Mr Michael Wong Wai-lun, Secretary for Development, Government of the HKSAR cum Honorary Advisor of GBA 2019 Jury Panel, together with Special VIP Guest Mr Wong Kam-sing, Secretary for the Environment, Government of the HKSAR, commended the contribution made by leading stakeholders in the building industry.
Themed 'Inspiring the Next Generation • Excellence in Sustainable Built Environment', Green Building Award 2019 received overwhelming response from the industry. There was a record-breaking number of 89 nominations, of which 67 became Finalists to compete for Awards in New Buildings Category, Existing Buildings Category, Research & Planning Category, Building Products & Technologies Category, as well as Green Building Leadership Category. This was also the first time to introduce six sub-categories in the Pioneer Award of Green Building Leadership, including Developers, Contractors, Consultants, Facilities Management, Green Product Industry Business and Government, Institutions & NGOs, with an aim to recognising companies or organisations which demonstrate exemplary leadership in respective criteria areas.
In Green Building Award 2019, 10 Grand Awards, 5 Green Building Leadership Pioneer Awards and 20 Merit Awards were presented to private and public sectors which were selected by a Jury Panel comprising of a broad base of renowned industry experts and academia from local and overseas. In addition, two projects were accredited with a Special Citation as they were deemed to have met the United Nations Sustainable Development Goals and positively contribute to the development of sustainable built environment.
Ir Allan Chan, Chairman of GBA 2019 Organising Committee and Professional Green Building Council said, "The Green Building Award 2019 was jointly organised by The Hong Kong Green Building Council and the Professional Green Building Council. I wish to express my sincere thanks for the active participation from the industry and the dedication from the Jury Panel, Sponsors, the GBA 2019 Organising Committee, Scientific Committee and Judging Criteria Committee, all of which have collaboratively brought the Green Building Award towards a new and highly significant milestone."
Mr Cheung Hau-wai, Chairman of the HKGBC, remarked, "I wish to offer my heartfelt congratulations to the winners of Green Building Award 2019 for their excellent achievements in green buildings. This year marks the 10th Anniversary of HKGBC, and I wish to sincerely thank the government and all partners for their contribution in promoting the green building movement. This effort contributes to reducing energy consumption and carbon emissions, and empowering Hong Kong to become more sustainable and eco-friendly in the built environment."

Winners of Grand Award (for projects) and Pioneer Award (for Green Building Leadership) of Green Building Award 2019 are listed in the table below.

Category
Sub-category
Award
Project
New Buildings Category

Completed Projects - Residential Building
Grand Award with Special Citation
Post-earthquake reconstruction demonstration project of Guangming Village
(One University One Village, The Chinese University of Hong Kong)
Completed Projects - Commercial Building
Grand Award with Special Citation
Victoria Dockside
(New World Development Company Limited)
Completed Projects - Commercial Building
Grand Award
One Taikoo Place
(Swire Properties Limited)
Projects Under Construction and/or Design - Commercial Building
Grand Award
Grade A Office & Retail Development at NKIL 6556
(Rich Union Development Limited)
Projects Under Construction and/or Design - Institutional Building
Grand Award
A 30-Classroom Secondary School at Kai Tak Development (Site 1A-2)
(Architectural Services Department)
Existing Buildings Category

Completed Buildings -Commercial Building
Grand Award
The Mills
(Nan Fung Development Limited)
Facilities Management
Grand Award
Pacific Place (Pacific Place Mall, One Pacific Place, Two Pacific Place)
(Swire Properties Management Limited)
Facilities Management
Grand Award
One, Two & Three Exchange Square and The Forum
(Hongkong (Property Management) Limited)
Research & Planning Category

Research
Grand Award
Urban Ventilation Assessment and Wind Corridor Plan for Chinese Cities
(School of Architecture, The Chinese University of Hong Kong)
Building Products & Technologies Category
N/A
Grand Award
Trane CenTraVac™ Centrifugal Chillers @R514A
(Trane Hong Kong)
Green Building Leadership Category

Developers
Pioneer Award
Swire Properties Limited
Contractors
Pioneer Award
Gammon Construction Limited
Consultants
Pioneer Award
Arup
Consultants
Pioneer Award
Ronald Lu & Partners
Government, Institutions & NGOs
Pioneer Award
The Chinese University of Hong Kong
The biennial Green Building Award is jointly organised by the Hong Kong Green Building Council (HKGBC) and the Professional Green Building Council (PGBC) since 2010 and inaugurated by PGBC in 2006. This edition aims to recognise nominations which go beyond the conventional practice, stretch their boundaries in advancing sustainability, and are capable of inspiring the next generation on how our future built environment could be. To learn more about Green Building Award 2019, please visit http://www.gba.org.hk/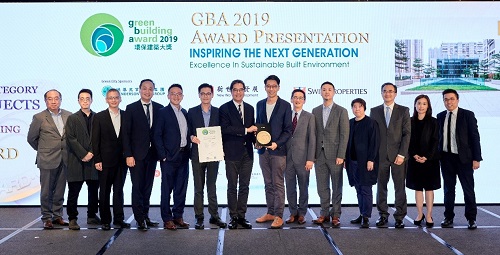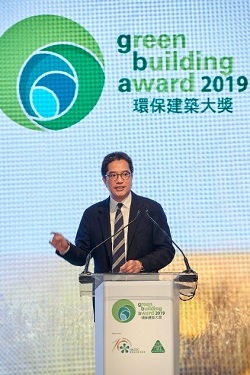 Mr Michael Wong Wai-lun