The 117,000-sqm Jinwan Mall was recently completed. The project is situated on the edge of Jinsha Lake in Zhuhai, China. Jinwan Mall is 10 Design's second project to complete on Huafa's Jinwan Aviation City, along with the recently built Industrial Service Centre and soon to be completed International Business Centre.
The retail scheme envisions the integration of a traditional courtyard garden with hypermodern space. The development weaves together the main mall, retail street and the waterside pavilions consisting of F&B and retail spaces, with ample outdoor spaces opening onto the lake. The retail street and the mall are tied together with the glass canopy spine that allows for weather-proof connectivity and use of the amenities. The façade which takes the form of Chinese stacked stone walls wraps around the scheme, coming alive with its rhombi shapes inspired by the 4th-dimensional hypercube. It plays with the gradient by a mixture of dark and light panels to break up the massing, as well as the lighting features acting upon perforated panels at night.
The urban frontage of the development along the roads creates an insulated appearance in contrast to the open, pedestrianised lakefront side of the mall. The perimetral wall facing the main streets is solid to prevent noise, except for two subtle openings acting as main entrances and glass fissures that allow dramatic views into the mall. The inner wall opens toward the lake and waterfront gardens via glass façades along with cascading down staircases and green terraces, blurring the line between the retail space and nature.
The circulation is made effortless like a meandering stroll through the garden, starting from the entrances to the mall's atrium, retail street and opening up to the garden and lake, by multiple pathways and interwoven spaces. The development's unique retail planning involving features such as the courtyard fountain and flexible waterfront space for pop-up shops and performance stages encourages gathering and lingering by visitors to the area.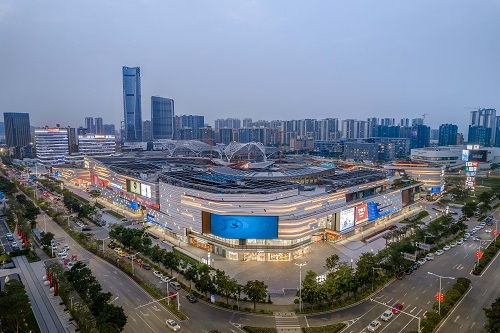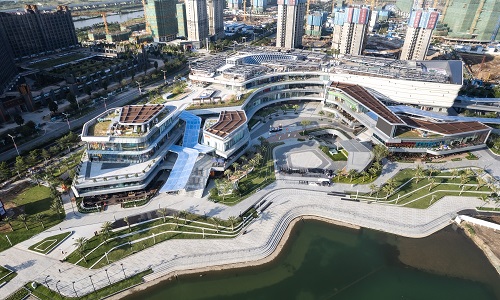 Project Data

Name
Jinwan Mall
Location
Zhuhai, China
Client
Huafa Group
Scope by 10 Design
Façade Design
Type
Retail
Site Area
58,483 sq m
GFA
117,000 sq m
Status
Built 2021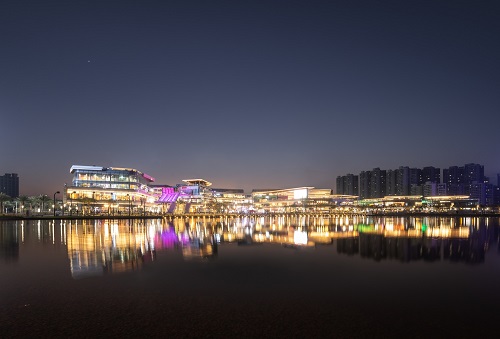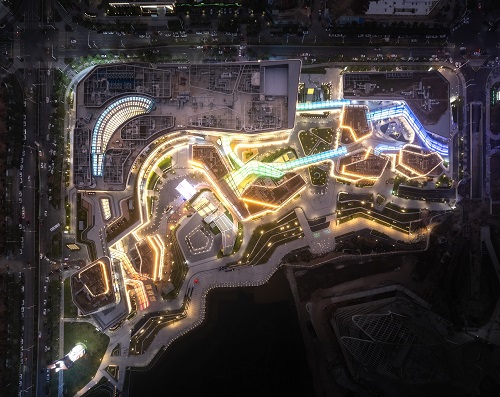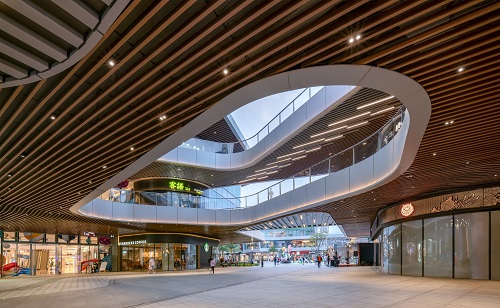 (Source: 10 DESIGN)