Business Environment Council Limited (BEC) recently announced that BEC Building, formally known as Jockey Club Environmental Building (JCEB), has achieved the top Final Platinum rating under BEAM Plus Existing Buildings Version 2.0 Comprehensive Scheme.
The certification was issued in January 2023 by Hong Kong Green Building Council Limited after an independent assessment by BEAM Society Limited. With an overall score of 92, BEC Building is able to retain its Final Platinum rating from the previous 2017 assessment. Among the six assessment aspects, the building performed exceptionally well and achieved over 90% credits in "Site Aspects", "Materials and Waste Aspects", and "Energy Use". Its outstanding energy performance is also found to be among the top 10th percentile of other similar premises.
As the building owner, BEC has implemented a number of resource efficient initiatives to retrofit the building services equipment and encourage behavioural changes among users of BEC Building. Ir C F Leung, Director – Operations of BEC, said, "BEC positions our building as a 'Green Lab' where environmental excellence is encouraged and celebrated. As our physical representation, BEC Building has always been a showcase of green building practices. Looking forward, we will continue to explore and introduce to our building the latest technologies contributing to Hong Kong's carbon neutrality pledge while strengthening our engagement with all building users to foster a low-carbon working environment."
To celebrate the achievement, Ir C F Leung has recently offered a guided tour to introduce the green features of BEC Building, including sustainable material selection, waste management facilities, water efficiency and energy saving equipment, indoor environmental quality enhancement measures, and the roof-friendly photovoltaic panel system. BEC welcomes group tours in which our "Green Lab" professionals will guide the visitors through our sustainable journey of retrofitting and motivating behavioural changes. Interested parties can make advance reservations online (https://bec.org.hk/en/building-tour).
BEAM Plus Existing Buildings measures the actual performance of a building and evaluates its facility management practices. The assessment covers all aspects of management, operation and maintenance, and may be initiated at any time during a building's operational life.



Acoustic panels at BEC Exhibition Hall are composed of 100% natural cork, a faster-growing
and more sustainable material than timber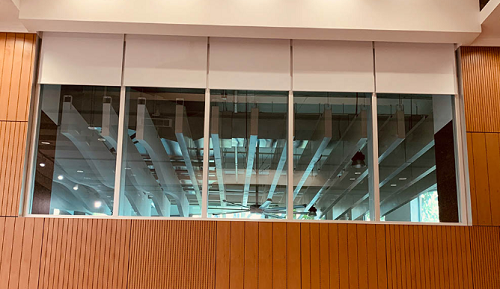 To efficiently provide natural lighting, a large window is installed at BEC Auditorium to
introduce diffused sunlight from the adjacent Exhibition Hall