October 18, 2017

Three Pavilion designs shortlisted for the inaugural Hong Kong Young Architects and Designers Competition

The West Kowloon Cultural District Authority (WKCDA) announced a shortlist of three Pavilion designs, as selected by the judging panel for the Hong Kong Young Architects & Designers Competition – the first competition of its kind in Hong Kong aimed specifically at showcasing the creativity and potential of local architects and designers still in the early stages of their careers.
Launched in April 2017 and open to Hong Kong residents either studying or who have graduated in architecture, design or a related discipline during the last 10 years, the competition had an overwhelming response. A total of 320 entries were reviewed by a panel of leading local and international experts who were tasked with selecting three designs to be taken forward for further development with the support of the WKCDA, in preparation for the selection this December of an overall winning design, which will then be built in a waterfront location at the West Kowloon Nursery Park.
The three selected designs are each radically different, each presenting innovative design solutions to a brief that sought a design for an inviting and dynamic Temporary Pavilion that complements the surrounding landscape and waterfront while enriching the cultural offering of the District by providing an informal space for small-scale events and activities.
The three shortlisted designs are:
· SkyCamp by EXP+ (Ng Siu-cheong, Liane Cheung Tian-nan and Tsang Suet-ming)
· Growing Up by New Office Works (Paul Tse Yi-pong and Evelyn Ting Huei-chung)
· Infinity Platform by Zhang Ruizhao
Each of the shortlisted design teams will receive a commendation prize of HK$100,000 and one of them will be selected in December to obtain a supplementary winner's prize of HK$150,000.
The two-stage competition is being judged by a panel of leading architects and professionals from Hong Kong and abroad: Mr Aric Chen, Lead Curator of Design and Architecture, M+; Mr Marvin Chen, President of the Hong Kong Institute of Architects; Prof Nelson Chen, Director of School of Architecture at the Chinese University of Hong Kong; Mr James Corner, Founder and Director of James Corner Field Operations (New York); Mr Sou Fujimoto of Sou Fujimoto Architects (Tokyo); Mr Thomas Heatherwick, Founder of Heatherwick Studio (London); Mr Victor Lo, M+ Board Chairman; Prof Nasrine Seraji, Head of Department of Architecture, the University of Hong Kong; Mr Chris van Duijn, Partner-in-charge of OMA Asia (Hong Kong) Ltd; and Ms Marisa Yiu, Co-founder and Executive Director of Design Trust in Hong Kong.

"Designing an inspiring and innovative pavilion for this very dramatic and public location with the West Kowloon Nursery Park is actually very difficult. From the many-hundred design entries, we selected three unique and distinctly different designs. Any of these three would be an inspiring landmark for the West Kowloon Cultural District and Hong Kong." said juror Chris van Duijn.

Juror Aric Chen commented, "The strength and diversity of the proposals prove what young Hong Kong architects are capable of when given the freedom and opportunity. In particular, the three shortlisted entries rethink materials, space, and construction in order to reshape the ways we interact; thus, they remind us of the joy to be found in urban existence."
It is anticipated that the Temporary Pavilion will commence construction in early 2018. The West Kowloon Cultural District aims to establish this as a biennial design competition that will act as a global platform for emerging Hong Kong design talent.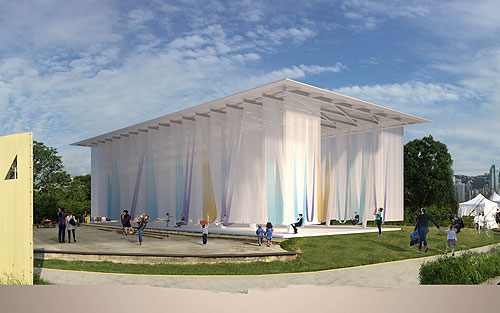 SkyCamp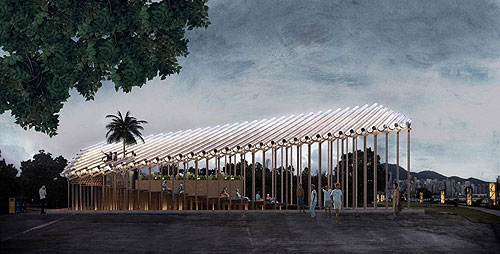 Growing Up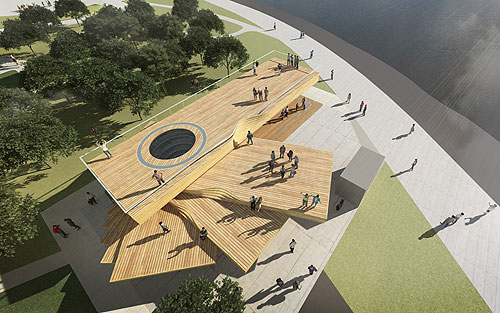 Infinity Platform (Photos: WKCDA)