October 11, 2018

Qujiang Creative Circle in Xi'an approaching final completion

Slated to complete and open in late 2018, the Qujiang Creative Circle in Xi'an will set a new standard for experiential retail and urban lifestyle development. The project will embody the very essence of The Oval Partnership's unique "open city" planning principles.
Situated in the National Cultural Industry District along Yan Xiang Lu, Qujiang Creative Circle will provide approximately 527,000 square metres of mixed-use space including office, retail, residential, entertainment, recreational and public amenities. The site is a discreet mix of the old and new, with famous historical sites including the Big Wild Goose Pagoda, Da Ci'en Temple and Tang Paradise sitting alongside such educational institutes as Xi'an Jiaotong University and Xi'an University of Technology. As such, the project will serve to bridge the past, present and future, nurture the spirit of creativity, and ultimately become a new destination for cultural and creative industry endeavors in Xi'an.
This new project will encompass all aspects of lives — commercial, residential, recreational and entertainment. The result is an inclusive, sustainable urban ecosystem which caters to the live-work-play lifestyle eagerly sought after by the new generation in Xi'an.
The development breaks from conventional enclosed malls. By knocking down the walls and creating a walkable streetscape environment, people are liberated from the confines of indoor malls and encouraged to engage in a neighborhood and enjoy the outdoors.
Walkways, footbridges, civic plazas, sky gardens, sunken terraces and green landscapes weave through the entire complex, connecting various functions and features in a rich variety of public spaces and experiences. This also means more possibilities for place-making, thereby providing more opportunities for networking and idea exchange to take place.
The network of sky gardens, landscaped decks and elevated walkways punctuates the building mass of the complex, bringing the scale of the architecture down to a more humanised level. The project is as much landscape as it is architecture, and the boundary between indoor and outdoor merges.

For full story, more images and plans, please refer to the next coming issue of Building Journal. Subscribe Building Journal E-version <click here>
Fast Facts


China Vanke / Xi'an Qujiang Cultural Industry Investment (Group)
3369 Qujiang District, Xi'an, China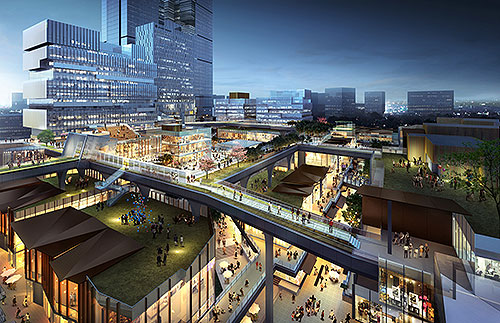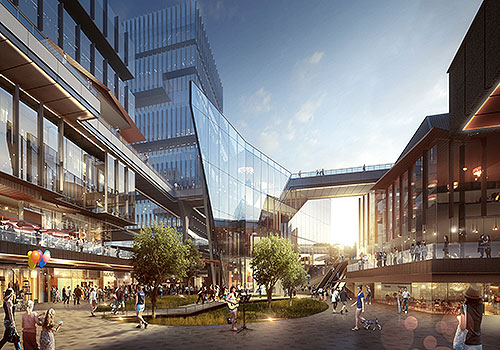 Online and Offline year round advertising package from