The International Sports and Cultural Exchange Centre is a community landmark building that integrates sports, culture and social interaction in Futian District of Shenzhen. The project is located on Meilin Street, adjacent to the urban green space in the west, and a main urban road in the south. It is in a favorable location, facing a pleasant urban interface with three subway stations around it.
The design divides the format into three parts: the office zone, the main venue "IN space" and the multifunctional space. The office zone is located in the north, with independent display surfaces, seamlessly connected to the venues; the high traffic main venue "IN space" is located on the south lower floor for ease of movement; the other 6 multi-functional venues occupy the upper part of the building, connected by a high-altitude interactive atrium to provide a central platform and a congregating space for citizens. The vertical stacking strategy enables multiple functional formats to operate independently while staying connected through public spaces, forming a perfect ecosystem of sports and industry.
To factor in traffic planning concerns, the first floor of the "IN space" is extended vertically. The sunken plaza and the mechanically mobile "multifunctional hall" serve to provide more public space, entertaining the possibility of hosting large-scale concerts, "vertical marathons", and other cultural and sports activities in the future. Pedestrians are invited into a welcoming liminal space as the permeable curtain wall dissolves the boundary between the building and the city.
To maximise functional space, the elevators and evacuation passages are designed to be included within the structural framework. A truss is planted every 18 meters, and robust beams are interspersed, to balance and undergird the IN space. The upper part of the truss is equipped with rods to suspend the multi-functional stadium above, forming a complete column-free space. This renders the space amenable to flexible arrangement according to the size and spatial location of the stadium. In order to strengthen lateral resistant ability, the trusses are connected by ramps and inclined beams to fashion the 3,600-meter aerial circular runway featured in the project.
"We envisage infinite possibilities for the venues, where sports events, concerts, fashion shows, etc. can all be held here. The column-free venue space is the ideal option to reify this," said Aedas Executive Director Chris Chen. "In addition, we don't want this to be just another conventional public sports building. We want it to be a congregating space that interacts with the citizens and the city. By responding to the surrounding city context, it creates an interface with the city, carving out a space for people to socialise."
City interface
For this reason, multiple platforms are set up between functional formats that are connected to the outdoor plaza via efficient escalators; open green spaces are utilized to bridge the gap between indoor and outdoor, providing a pleasant social environment that brings us closer to nature. A number of arrival paths are planned by which the venues can be accessed from the basement, ground floor, and second floor via link bridges; the north office zone also has an independent core that is useful in dispersing traffic. (Source: Aedas)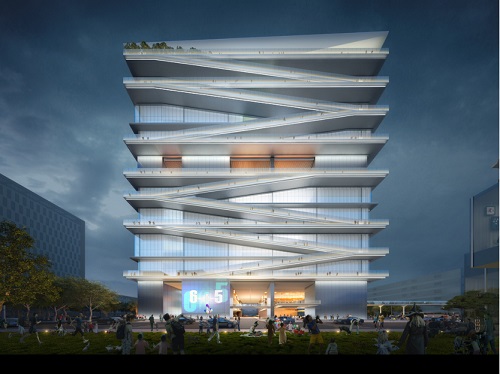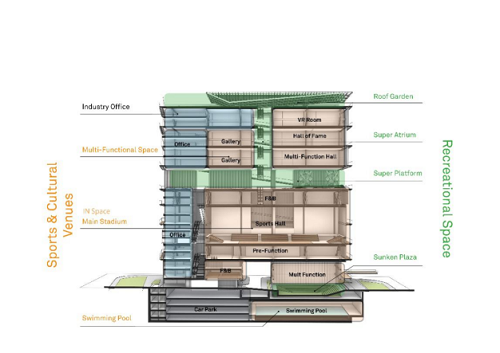 Project data
Project
International Sports and Culture Exchange Centre
Location
Shenzhen, China
Owner
Shenzhen Futian Bureau of Sports and Culture, China
Design and Project Architect
Aedas
Gross Floor Area
9,500 sq m
Status
Unknown